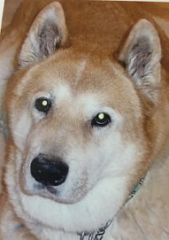 After struggling throughout his first year of life with a skin condition that caused him to lose 90% of his fur, a young Akita named Pepsi was diagnosed with an autoimmune disorder. His case was so severe that even symptomatic relief methods weren't working, and both dermatologists and alternative practitioners suggested he be euthanized.
Pepsi's guardians, Dr. Don and Judy Baker, refused to give up on their beloved dog. As a veterinarian, Don was frustrated that there were no treatments for chronic incurable conditions that did not result in serious side effects. Determined to find an alternative solution, he made it his mission to create one. The result was Dr. Baker's Canine System Saver, a proprietary blend of Curcuma longa (Turmeric), Citrus reticulata, Boswellia serrata and Camelia sinensis. Within two to three weeks of using System Saver on Pepsi, the smell and overall look of his skin began to improve, and the light came back into his eyes.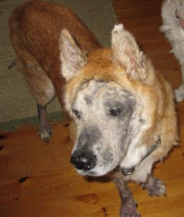 Before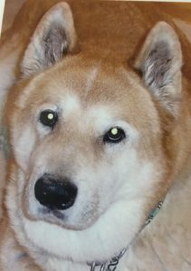 After
Since 2000, System Saver has helped other dogs suffering from various chronic conditions including allergies, dermatological, gastrointestinal, autoimmune and respiratory disorders. But the benefits don't end there. System Saver not only manages chronic immune and inflammatory conditions. The unique combination of broad spectrum anti-inflammatory, antioxidant and MMP inhibitory properties work together to decrease oxidative stress and inflammation while inhibiting tissue destructive enzymes, making it an ideal supplement for maintaining the joint health of animal companions. It controls damage done to cartilage and other tissue in canine athletes and victims of traumatic injury, and offers multiple benefits to aging dogs by preventing joint problems such as arthritis and hip dysplasia, while managing chronic inflammatory conditions at the same time. Unlike other joint supplements on the market, Dr. Baker's Canine System Saver doesn't just provide nutrients for cartilage repair, but regulates tissue destructive enzymes to prevent cartilage degradation before it occurs allowing regeneration to prevail over degeneration. For autoimmune, chronic inflammatory and immune mediated disorders, System Saver inhibits the activation of inflammatory mediators, helping pet parents manage their dog's once unmanageable conditions. This unique product is also a great preventative measure that can be added to a dog's meals.